Lenard's Secret Harbour is located in Secret Harbour Square, Perth. All products are handmade in-store using premium, locally sourced, naturally delicious ingredients.
We put love into every meal we make so that you can share the love with your family and friends.
Simply make a purchase in-store at Lenard's Secret Harbour and sign up for the chance to be a VIP for a year! We are giving away three VIP cards – Gold VIP 25% off, Silver VIP 15% off and Bronze VIP 10% off.
Think of all the delicious handmade chicken products you can enjoy all year round! 
Hurry, competition ends 31 May 2022.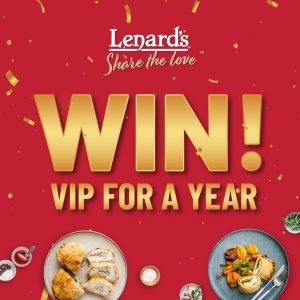 We've made our chicken products even more convenient thanks to our click and collect service. Choose from a wide range of easy to cook products that you can shop online then collect from our store. 
Lenard's Secret Harbour is now available on Menulog. Get your favourite chicken products delivered fresh to your door in no time! 
Monday
Tuesday
Wednesday
Thursday
Friday
Saturday
Sunday
8.00am –   6.00pm
8.00am –   6.30pm
8.00am –   6.30pm
8.00am –   6.30pm
8.00am –   6.30pm
8.00am –   5.00pm
11.00am –  5.00pm